Featured in Tesco speaking on awareness of men's mental health. Mental health problems is a topic that affects 1 in 4 men. Despite being so common, many men feel unable to seek medical help or tell people what they're going through most men keep quiet to themselves. The main aim for this was to speak up and make sure men do not suffer in silence.
The panel was Shared with Jermaine Jenas: Former England, Spurs and Newcastle Footballer. Jermaine has been a continued ambassador of mental health awareness and kicking out racism in football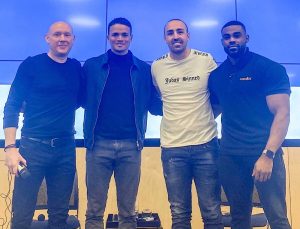 Panel Member 2 – Jose Enrique: Former Valencia, Liverpool and Newcastle Footballer. Jose retired from football in 2017 due to a persistent knee injury. In late 2018, Jose was diagnosed with a rare brain tumour which was successfully treated and he has since recovered from.
I specifically spoke about the challenges that I had to overcome to reach where I am. What are some of the mental and physical boundaries associated with being a Body Building World Champion. And How necessary is physical fitness in maintaining a healthy mindset.
We all spoke about some of the pressures that we experienced in our professional and personal lives, how this has affected us and how they have been overcome. Also how staying physically fit helps our mental health.